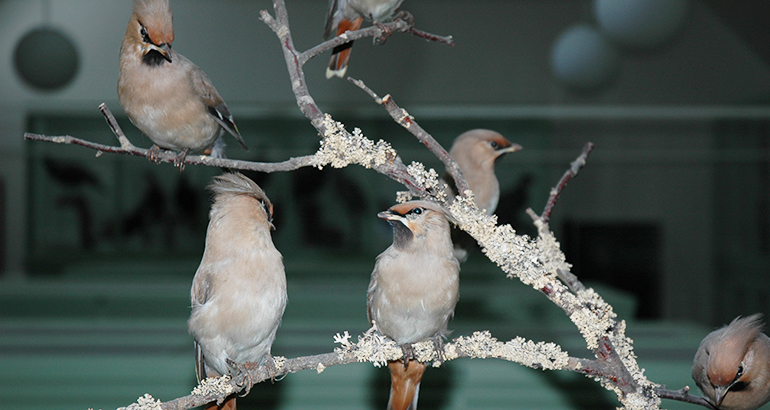 Opening hours
June: Open for tours. Book tickets here: https://jonkoping.actorsmartbook.se/?cg=17

External link.
July: Thursday-sunday 10 am-5pm.
August: Open for tours. Book tickets here: https://jonkoping.actorsmartbook.se/?cg=17

External link. 
Free admission for everyone.
In 1913 an army doctor by the name of Herman Nyqvist (1856-1923) donated his bird collection to the City Park Committee. When this Committee was disbanded, the collection passed into the ownership of the Jönköping Municipal Council and is now looked after by the Cultural Department of Jönköping.
The collection
The collection comprises 1 450 birds, covering 330 species. The preserved birds date from the end of the 19th century up to 1910. After this date the collection has been supplemented with individual specimens who have been found dead, as current hunting legislation now makes it impossible to assemble a collection of this size. Most of the collection, of some 1 000 birds, were shot and preserved by the donator, Dr. Herman Nyqvist. The taxidermy work is extremely well done. This contributes to the high value of the collection. Even the place and date of capture is given for most of the specimens.
Birds
The Bird Museum includes many beautiful examples of birds of prey, waders, duck, woodpeckers and songbirds. Specimens which are particularly worthy of note are Peregrine, Greenland Gyrfalcon, Ruff, Shoveler, Middle Spotted Woodpecker, Ring Ouzel and Roller. All the species of birds which nested in Sweden, or regularly stopped here during their migration flights at the time when the museum was started, are represented in the collection. In addition there are a number of species which only periodically visited Sweden at the time the Museum was started. The range and species of birds in a given area changes constantly. Some new species come here to nest, others unfortunately disappear. Examples of species which no longer nest in Sweden are the Puffin and Middle Spotted Woodpecker. Other species are threatened and require special measures to ensure their survival. Examples of such birds are the Lesser White fronted Goose, Peregrine, White backed Woodpecker and Crested Lark.
Birds eggs
In a separate part of the Museum there is an exceptional collection of bird´s eggs which has been assembled over almost 100 years. Edvard Wibeck, executive forester, donated the majority of this collection to the town of Jönköping in 1943. The collection comprises eggs from some 170 Swedish species, and has been assembled from eggs collected around Jönköping and Värnamo, as well as from large parts of northern Sweden. The collection has also been supplemented through the acquisition of several smaller collections. The Museum collection currently comprises some 2 580 eggs from 281 species of birds. The oldest ones are a group of five Little Bittern eggs dated 18th June, 1866.
Photographs
The egg collection part of the Museum also includes an important collection of photographs of Swedish birds nest and habitats. 179 of these photographs were taken by Paul Rosenius, and 121 by Edvard Wibeck, whose photographic equipment is displayed in the Museum.